TOUR CODE WERVIC
VICTORIA
01 APR 2019 - 31 MAR 2020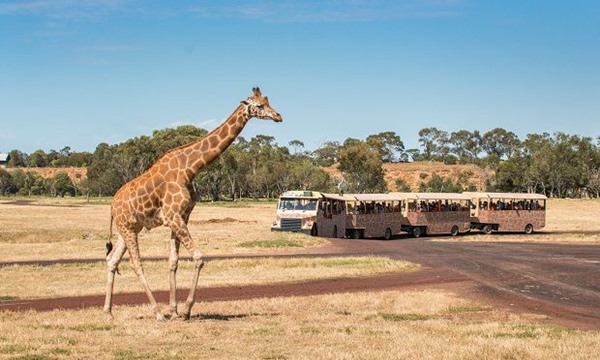 PRICE FROM MYR
106.45
/PERSON
Print Trip Details
Trip Inclusive
General Admission
Safari bus tour
Keepers Talks and Presentations.
INTRODUCTION
Werribee Open Range Zoo is set along the beautiful and picturesque stretch of the Werribee River and is home to magnificent grassland animals displayed in an open range naturalistic setting. Werribee Open Range Zoo offers an unforgettable experience. The guided savannah safari tour and walking trails provides the visitor with a face-to-face view on some for the world's magnificent grasslands wildlife. The Zoo displays groups of 45 species from Africa, Asia and Australia. The safari bus takes visitors through almost 500 acres of open savannah for up-close encounters with rhinoceros, giraffe, zebra and antelope. Walking trails bring you to lions, cheetah and hippopotamus.
HIGHLIGHT
Werribee Open Range Zoo offers a unique opportunity to experience an African adventure closer to home and encounter the magnificent animals of the African savannah. Our 200 hectare property is home to some of Africa's most iconic animals, as well as wildlife from the grasslands of Asia, North America and Australia. All this, in an open range environment where the animals are given the space to behave as they would in their natural habitats
TERMS & CONDITIONS
12FLY.COM.MY (Malaysian Harmony Tour & Travel Sdn Bhd) reserves the right to change the ticket/admission prices and validity, block-out dates and designated day dates without prior notice.
Advance booking required at least 10 working days before departure.
12FLY.COM.MY will issue service e-voucher/travel voucher on behalf of suppliers. Or suppliers will provide service e-voucher/travel voucher.
Guests need to present the service e-voucher/travel voucher to redeem the purchased tickets/admissions.
Service e-voucher/travel voucher are non-transferable, non-exchangeable, non-refundable, not for re-sale and are revocable.
Tickets/Vouchers only allows for a one (1) - time use only. If it is determined by supplier that there are multiple copies/usages of the ticket/vouchers, usage of the ticket will be denied. In the event of any dispute, a final decision shall be made based on our electronic record.
Any resale of tickets/vouchers is strictly prohibited unless authorized in writing by supplier. Supplier reserves the right to invalidate tickets/vouchers in connection with any fraudulent/unauthorized resale transaction, without refund or other compensation.
Admissions to the attractions are subject to the individual attraction's rules and regulations.
Supplier reserves the right to amend or add to the terms and conditions at any time without prior notice.
A re-issue fee of RM 50.00 per booking will be imposed for any amendment made after voucher issued.
No shows or cancellations less than 7 days notice are subject to 100% cancellation fee.