TOUR CODE AKLBC
AUCKLAND, NORTH ISLAND
01 SEP 2019 - 30 SEP 2020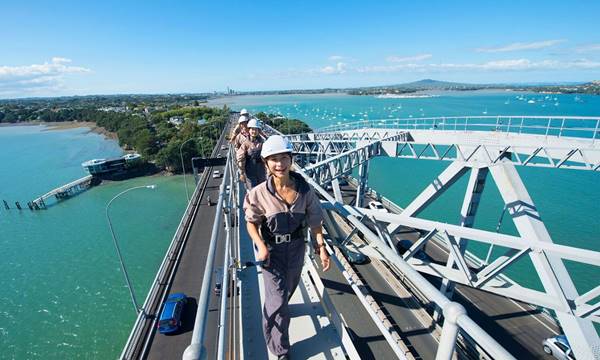 PRICE FROM MYR
383.50
/PERSON
Print Trip Details
Trip Inclusive
Climb & Certificate
Duration - 1.5 hours
INTRODUCTION
There aren't too many bridges in the world you're allowed to climb to the top of without getting put in handcuffs. With AJ Hackett Bungy Auckland, it's not just allowed – it's completely safe and incredibly fun.
HIGHLIGHT
Here is your chance to be Spiderman. Only AJ Hackett Bungy can offer you this level of access to the Auckland Harbour Bridge; and this is the one and only Bridge Climb in New Zealand, coming complete with your very own tour guide. Lasting for 1 1/2 hours, this climb will have you wondering whether to look at your feet or focus on the spectacular views.
Climb Stats - Exclusive access to the Auckland Harbour Bridge
Best views of Auckland - City of Sails
Fully Trained Bridge Guides
Getting up close and personal to Bungy Jumpers
TERMS & CONDITIONS
This Day Climb is operating by AJ Hackett NZ.
Advance booking required at least 10 working days before departure.
Tour are subject to availability.
12FLY.COM.MY will issue service e-voucher/travel voucher on behalf of suppliers. Or suppliers will provide service e-voucher/travel voucher.
Guests need to present the service e-voucher/travel voucher to redeem the purchased tickets/admissions.
Service e-voucher/travel voucher are non-transferable, non-exchangeable, non-refundable, not for re-sale and are revocable.
Tickets/Vouchers only allows for a one (1) - time use only. If it is determined by supplier that there are multiple copies/usages of the ticket/vouchers, usage of the ticket will be denied. In the event of any dispute, a final decision shall be made based on our electronic record.
Any resale of tickets/vouchers is strictly prohibited unless authorized in writing by supplier. Supplier reserves the right to invalidate tickets/vouchers in connection with any fraudulent/unauthorized resale transaction, without refund or other compensation.
Admissions to the attractions are subject to the individual attraction's rules and regulations.
Supplier reserves the right to amend or add to the terms and conditions at any time without prior notice.
No shows or cancellations less than 7 days notice are subject to 100% cancellation fee.