TOUR CODE ADV
AUCKLAND, NORTH ISLAND
01 OCT 2019 - 30 SEP 2020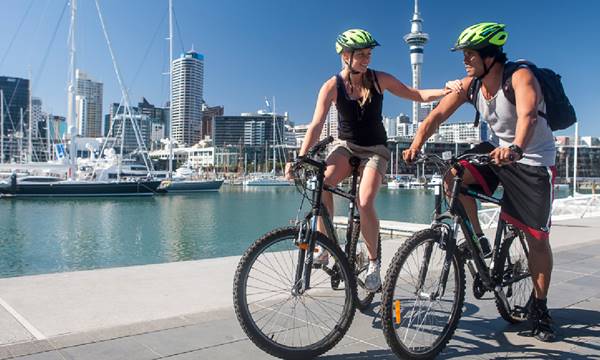 PRICE FROM MYR
427.00
/PERSON
Print Trip Details
Trip Inclusive
Privately guided bike tour | designed for 2 people booking together
Total riding distance - 22km
INTRODUCTION
This popular, private tour starts at our centrally located base in downtown Auckland, following an easy route along off-road cyclepaths to the charming seaside community of Mission Bay. Light refreshments are served on the beach before we pedal back to the city, enjoying sweeping views across the islands of the Hauraki Gulf and Auckland skyline. Private tour designed for 2 people booking together. GRADE 2
Our grading system is based on the average persons fitness and biking ability.
HIGHLIGHT
This popular, private tour starts at our centrally located base. We follow an easy route along flat cycle paths through the Viaduct Basin to the charming seaside community of Mission Bay. We return to our base via-a scenic viewpoint and the historic heart of Auckland city.
When we reach Mission Bay, you can choose to relax on the beach or indulge in an ice-cream before we pedal back to the city.
As we ride back to the city, you will enjoy sweeping views across the islands of the Hauraki Gulf and the Auckland skyline.
Cruise and conference groups really enjoy this tour for the relaxed, social environment it provides. Independent travellers really enjoy the opportunity to spend a morning with a knowledgeable, passionate local guide.
TERMS & CONDITIONS
This Tour is operating by Adventure Capital.
Advance booking required at least 10 working days before departure.
Tour are subject to availability.
12FLY.COM.MY will issue service e-voucher/travel voucher on behalf of suppliers. Or suppliers will provide service e-voucher/travel voucher.
Guests need to present the service e-voucher/travel voucher to redeem the purchased tickets/admissions.
Service e-voucher/travel voucher are non-transferable, non-exchangeable, non-refundable, not for re-sale and are revocable.
Tickets/Vouchers only allows for a one (1) - time use only. If it is determined by supplier that there are multiple copies/usages of the ticket/vouchers, usage of the ticket will be denied. In the event of any dispute, a final decision shall be made based on our electronic record.
Any resale of tickets/vouchers is strictly prohibited unless authorized in writing by supplier. Supplier reserves the right to invalidate tickets/vouchers in connection with any fraudulent/unauthorized resale transaction, without refund or other compensation.
Admissions to the attractions are subject to the individual attraction's rules and regulations.
Supplier reserves the right to amend or add to the terms and conditions at any time without prior notice.
No shows or cancellations less than 7 days notice are subject to 100% cancellation fee.