TOUR CODE BUSAKL
AUCKLAND, NORTH ISLAND
01 OCT 2019 - 30 SEP 2020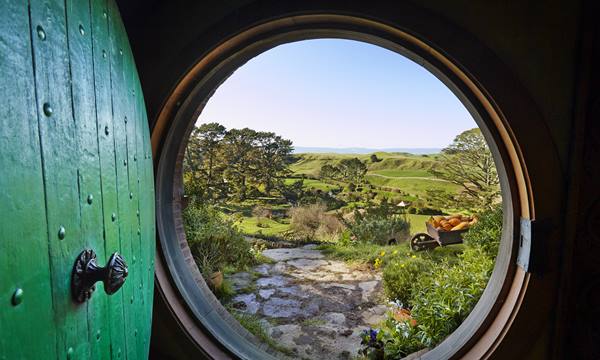 PRICE FROM MYR
792.40
/PERSON
Print Trip Details
Trip Inclusive
Sumptuous buffet lunch in the Party Marquee | Free souvenir voucher
Admissions and guided tour of Hobbiton Movie Set
Ale, cider or ginger beer at the Green Dragon Inn
Return transport with full commentary from Auckland | Bush and Beach guide with you for the whole day (no transport changes for your return to Auckland)
Pick up and drop off at inner city accommodation
INTRODUCTION
This small group tour is an easy day trip from Auckland to Hobbiton movie set. The day includes a fully guided tour of the set as seen in 'The Lord of the Rings' and 'The Hobbit' trilogy and we also include a sumptuous lunchtime feast in the Party Marquee.
Our experienced guides look after you all day from pick up to drop off at your Auckland City Accommodation. They include a full commentary on the way with insights into the areas you are travelling through and background to the movie set you are visiting.
HIGHLIGHT
At Hobbiton we will take you down to the set itself and have one of the specialist Hobbiton guides take you on a walking tour around the 44 Hobbit holes. You will get the chance to have a photo in the doorway of a Hobbit house, see the Party Tree and stand by the gate to Bilbo's house 'Bag End' overlooking the whole set to the hills in the distance. Before your feast in the Party Marquee (which is included in the price) you cross the bridge by the mill to go into the Green Dragon Inn where you can enjoy a complimentary ale, cider or ginger beer.
After lunch we'll give you a $10 souvenir voucher to spend at the Hobbiton gift shop before we head back to your accommodation in Auckland, arriving back mid-afternoon before the traffic builds up.
Bush and Beach have been running tours from Auckland to Hobbiton movie set for over 5 years and work closely with Hobbiton to make sure you get the most out of your time at Hobbiton. There is no need to change vehicles when you are travelling with Bush and Beach – our guides are with you all day and will drive you down to the movie set and pick you up from there after lunch.
TERMS & CONDITIONS
This Day Tour is operating by Bush and Beach Company.
Advance booking required at least 10 working days before departure.
Tour are subject to availability.
12FLY.COM.MY will issue service e-voucher/travel voucher on behalf of suppliers. Or suppliers will provide service e-voucher/travel voucher.
Guests need to present the service e-voucher/travel voucher to redeem the purchased tickets/admissions.
Service e-voucher/travel voucher are non-transferable, non-exchangeable, non-refundable, not for re-sale and are revocable.
Tickets/Vouchers only allows for a one (1) - time use only. If it is determined by supplier that there are multiple copies/usages of the ticket/vouchers, usage of the ticket will be denied. In the event of any dispute, a final decision shall be made based on our electronic record.
Any resale of tickets/vouchers is strictly prohibited unless authorized in writing by supplier. Supplier reserves the right to invalidate tickets/vouchers in connection with any fraudulent/unauthorized resale transaction, without refund or other compensation.
Admissions to the attractions are subject to the individual attraction's rules and regulations.
Supplier reserves the right to amend or add to the terms and conditions at any time without prior notice.
No shows or cancellations less than 7 days notice are subject to 100% cancellation fee.