TOUR CODE AKLSW
AUCKLAND, NORTH ISLAND
01 SEP 2019 - 30 SEP 2020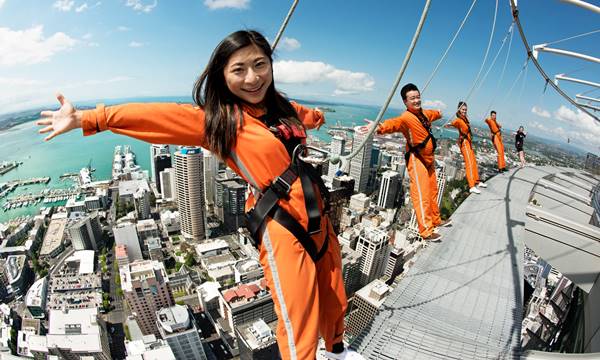 PRICE FROM MYR
432.80
/PERSON
Print Trip Details
Trip Inclusive
192m High | 360 Views | Gravity Challenges
DURATION Allow 90 minutes.
Please ensure you wear flat lace up shoes. Or if you don't have any, we have some very stylish ones you can borrow for the walk.
INTRODUCTION
Take a walk on the wild side at the top of New Zealand's highest building. With no handrails to separate you from the 192m drop, you'll be doing some adrenaline-fuelled challenges designed to get your heart racing while you take in those epic 360-degree views of the City of Sails.
SkyWalk are based in the Auckland Sky Tower, the tallest building in New Zealand.
Hop on public transport, take an Uber, or drive yourself. Parking is located in the SkyCity building on the corner of Federal and Victoria Streets.
HIGHLIGHT
SkyWalk is open 10.00am to 4.30pm daily, except Christmas Day.
During your SkyWalk experience, you'll traverse 360 degrees around the spectacular Auckland Sky Tower – the tallest tower in the Southern Hemisphere - stopping at several points to:
have your photo taken!
admire the spectacular views of Auckland city and the sparkling harbour
learn a little about Auckland history and landmarks
see how tiny cars and people are from 192 metres above the ground!
have a go at hanging over the edge!
TERMS & CONDITIONS
This SkyJump is operating by AJ Hackett.
Advance booking required at least 10 working days before departure.
Tour are subject to availability.
12FLY.COM.MY will issue service e-voucher/travel voucher on behalf of suppliers. Or suppliers will provide service e-voucher/travel voucher.
Guests need to present the service e-voucher/travel voucher to redeem the purchased tickets/admissions.
Service e-voucher/travel voucher are non-transferable, non-exchangeable, non-refundable, not for re-sale and are revocable.
Tickets/Vouchers only allows for a one (1) - time use only. If it is determined by supplier that there are multiple copies/usages of the ticket/vouchers, usage of the ticket will be denied. In the event of any dispute, a final decision shall be made based on our electronic record.
Any resale of tickets/vouchers is strictly prohibited unless authorized in writing by supplier. Supplier reserves the right to invalidate tickets/vouchers in connection with any fraudulent/unauthorized resale transaction, without refund or other compensation.
Admissions to the attractions are subject to the individual attraction's rules and regulations.
Supplier reserves the right to amend or add to the terms and conditions at any time without prior notice.
No shows or cancellations less than 7 days notice are subject to 100% cancellation fee.