TOUR CODE AKLBB
AUCKLAND, NORTH ISLAND
01 OCT 2019 - 30 SEP 2020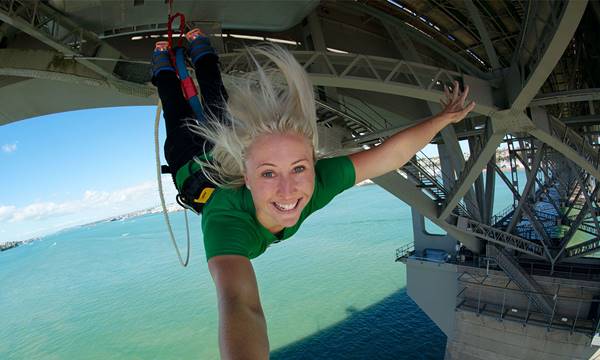 PRICE FROM MYR
473.40
/PERSON
Print Trip Details
Trip Inclusive
Jump, t-shirt and certificate
Transport (Return to Viaduct) from outside the AJ Hackett SkyJump SkyWalk Visitor Centre at the Auckland Sky Tower, Corner of Victoria and Federal St, Auckland City
INTRODUCTION
Old meets new – the most enduring sight on the Auckland horizon is also home to a Bungy operation of epic proportions. Our Bungy Pod is attached underneath the bridge, and is ready to go for thrill-seekers looking for a buzz in New Zealand's biggest city. You can even dip your head in the ocean below, bouncing back up feeling fierce and unstoppable.
HIGHLIGHT
Spectators are welcome to accompany their mates out to the Bungy Pod. Our purpose built viewing pod provides a safe and enjoyable area to experience the phenomenon that is Bungy without your feet leaving the ground.
Age: Minimum 7 years.
Weight: 35kg to 150kg.
Height: Minimum 120cm.
Cost: $20 per person.
TERMS & CONDITIONS
This Bungy is operating by AJ Hackett NZ.
Advance booking required at least 10 working days before departure.
Tour are subject to availability.
12FLY.COM.MY will issue service e-voucher/travel voucher on behalf of suppliers. Or suppliers will provide service e-voucher/travel voucher.
Guests need to present the service e-voucher/travel voucher to redeem the purchased tickets/admissions.
Service e-voucher/travel voucher are non-transferable, non-exchangeable, non-refundable, not for re-sale and are revocable.
Tickets/Vouchers only allows for a one (1) - time use only. If it is determined by supplier that there are multiple copies/usages of the ticket/vouchers, usage of the ticket will be denied. In the event of any dispute, a final decision shall be made based on our electronic record.
Any resale of tickets/vouchers is strictly prohibited unless authorized in writing by supplier. Supplier reserves the right to invalidate tickets/vouchers in connection with any fraudulent/unauthorized resale transaction, without refund or other compensation.
Admissions to the attractions are subject to the individual attraction's rules and regulations.
Supplier reserves the right to amend or add to the terms and conditions at any time without prior notice.
No shows or cancellations less than 7 days notice are subject to 100% cancellation fee.