TOUR CODE AWT
AUCKLAND, NORTH ISLAND
01 OCT 2019 - 30 SEP 2020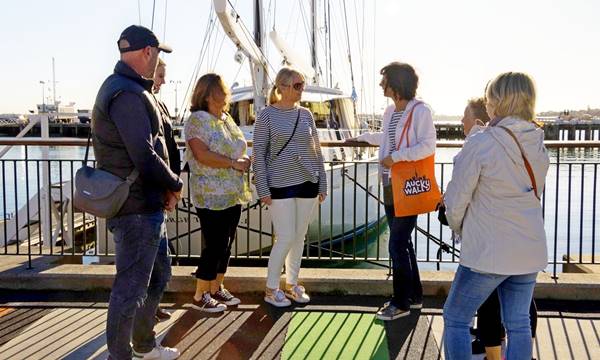 PRICE FROM MYR
398.30
/PERSON
Print Trip Details
Trip Inclusive
3 hours (We walk approx 2 km. Please allow 30 min before your next scheduled activity)
A minimum of four food stops selected for their great tastes, cool vibes and hard-to-find locations. Table water is included. Other drinks at own cost, legal alcohol drinking age 18+.
INTRODUCTION
Eat your way through Auckland on this moving feast of mouth-watering food and city sights. Your local guide will reveal hidden spots selected for their delicious tastes and cool vibes. You'll also discover back lanes and city treasures on this long progressive lunch. This small-group Auckland food tour is the perfect recipe for fun with fellow foodies.
HIGHLIGHT
Your small-group food tour begins on Auckland's 'eat street' at the base of Sky Tower. After a welcome in Maori, you'll head to a locally owned eatery to mix and mingle with your guide over New Zealand-style cuisine. Here you may savor seafood fritters with aoli dipping sauce or seasoned beef wagyu depending on the seasonal tastes we select for your enjoyment.
This leisurely experience blends Auckland's colorful history and landmarks with an entertaining 'lunch on legs' designed to showcase the city's diverse flavours. It's so much more than a food tour as you'll duck down back lanes and through serene squares towards the city's waterfront. As you walk, enjoy Asian-style street food, premium cheese, artisan chocolate or a dessert we consider the best in the world. Along the way, we sit down to share the stories of the local food vendors carefully selected to host us. You'll discover their fascination with crafting premium ingredients into the food Aucklanders' love to eat.
At harbor's edge, your local guide will bid you a friendly farewell on Auckland's bustling waterfront. You'll leave full to the brim with food and local advice as Auckland is a Pacific-rim foodie paradise (if you know where to go).
TERMS & CONDITIONS
This Walking Tours is operating by Aucky Walky Tours.
Advance booking required at least 10 working days before departure.
Tour are subject to availability.
12FLY.COM.MY will issue service e-voucher/travel voucher on behalf of suppliers. Or suppliers will provide service e-voucher/travel voucher.
Guests need to present the service e-voucher/travel voucher to redeem the purchased tickets/admissions.
Service e-voucher/travel voucher are non-transferable, non-exchangeable, non-refundable, not for re-sale and are revocable.
Tickets/Vouchers only allows for a one (1) - time use only. If it is determined by supplier that there are multiple copies/usages of the ticket/vouchers, usage of the ticket will be denied. In the event of any dispute, a final decision shall be made based on our electronic record.
Any resale of tickets/vouchers is strictly prohibited unless authorized in writing by supplier. Supplier reserves the right to invalidate tickets/vouchers in connection with any fraudulent/unauthorized resale transaction, without refund or other compensation.
Admissions to the attractions are subject to the individual attraction's rules and regulations.
Supplier reserves the right to amend or add to the terms and conditions at any time without prior notice.
No shows or cancellations less than 7 days notice are subject to 100% cancellation fee.