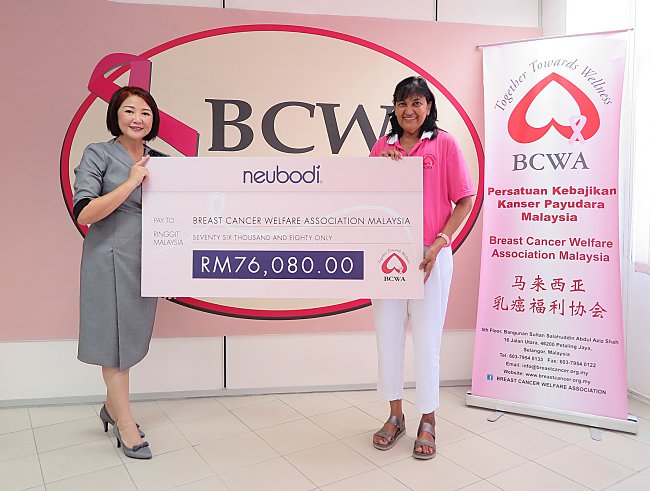 The breast cancer awareness campaign designed to raise funds and increase public's understanding of the gender-blind disease ended on a high note for the Neubodi team as they celebrated having raised RM76,080. Benefitting the Breast Cancer Welfare Association Malaysia (BCWA) "Hospital Angels" programme, the fundraiser was organised as part of the broader Bra Drive 2017 campaign and saw some 100 cyclists take to the road to complete the "Pedal Forward" 18km journey in solidarity with survivors, patients and for some, in memory to loved ones lost to the disease. Cyclists raised funds via a crowdsourcing platform. The campaign also highlighted the importance of early detection and self-examination in tackling breast cancer.
BCWA's Hospital Angels programme will see trained volunteers visit newly diagnosed breast cancer patients, providing support and information that will help patients and caregivers alike focus on learning to cope with breast cancer in an engaging and positive environment.
The Hospital Angels programme consists of a team of breast cancer survivors trained by certified specialists in psychology and sociology using internationally recognised modules developed by the Reach to Recovery International (RRI) and approved by the Union for International Cancer Control (UICC). Hospital Angels will be recertified annually to ensure the quality of their work, and to-date, the programme has successfully recruited 40 volunteers.
Neubodi Bra Drive 2017 campaign also included other initiatives such as the sales of the exclusive GO PINK collection, and donation and recycling of bras. It was held for the fifth year running.