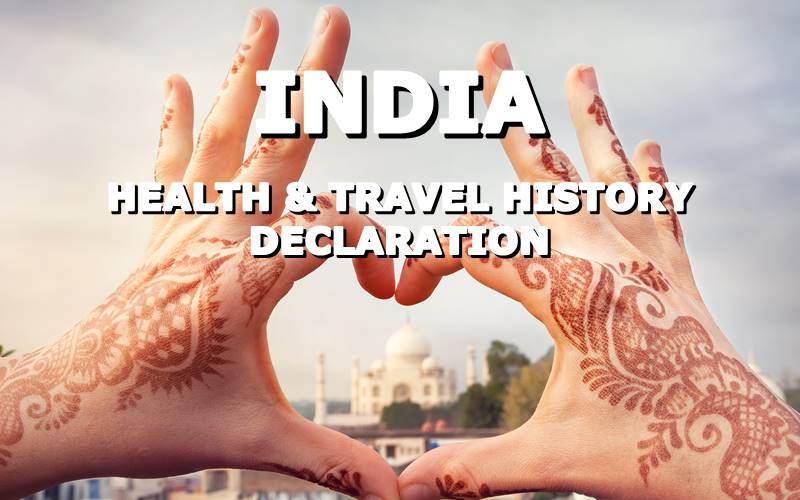 All international arrivals to India are required to share travel history and declare health condition at all airports. The government issued the advisory after a man who travelled from Italy via Vienna and entered the country without any screening at the Delhi airport was tested positive for the new coronavirus on early of March 2020.
In its directive, the Bureau of Immigration said all foreign and Indian nationals entering India from any port were required to self-declare their travel history as well as provide personal particulars such as phone number and address in India through a paper of Self Reporting Form. Below this information, there is a set of questions specifically about China, where the coronavirus originated in December last year. The questions mentions on the form ask a passenger what all cities he/she visited in China, if Wuhan was one of them; if yes, the period of stay in Wuhan and did the passenger visit any seafood market.
At Delhi and Mumbai airports, health ministry and hospital officials ask international passengers before the immigration counters to declare whether they had come from any coronavirus affected countries. If a passenger has travelled to one of those countries, he or she has to go through a thermal scanner.
The countries that are on the checklist of the Indian government are China, South Korea, Japan, Italy, Hong Kong, Macau, Vietnam, Malaysia, Indonesia, Nepal, Thailand, Singapore and Taiwan.
Travelers might be facing some difficulties when they arrive in India as there is shortage of the these forms at airports especially at this sensitive time. Failing which, travelers may have to wait longer hours to get the self reporting form, fill-up and then clear immigration is allow.
Hence, we strongly advise all travelers who already scheduled trip to India, please print of Self Reporting Form and fill-up before arrival at any airports or seaports of India. Here will be some guidelines to ease your health declaration and immigration clearance upon arrival at all India airport.
Step 1 – This Self Reporting Form is strongly advised to be print into 2 copies
Step 2 – First copy for the health authority officers for checking to be retain with them
Step 3 – Second copy, will return to the travelers. It will be returned with an official stamp 'CHECKED/OK'
Step 4 – The stamp of 'CHECKED/OK' copy is require to give to the immigration officer together with your travel documents/passport/visa etc.
Step 5 – Immigration Officer will retain " CHECKED/OK " copy with them for recording purposes.
You may save and print this copy of Self Reporting Form or download from this link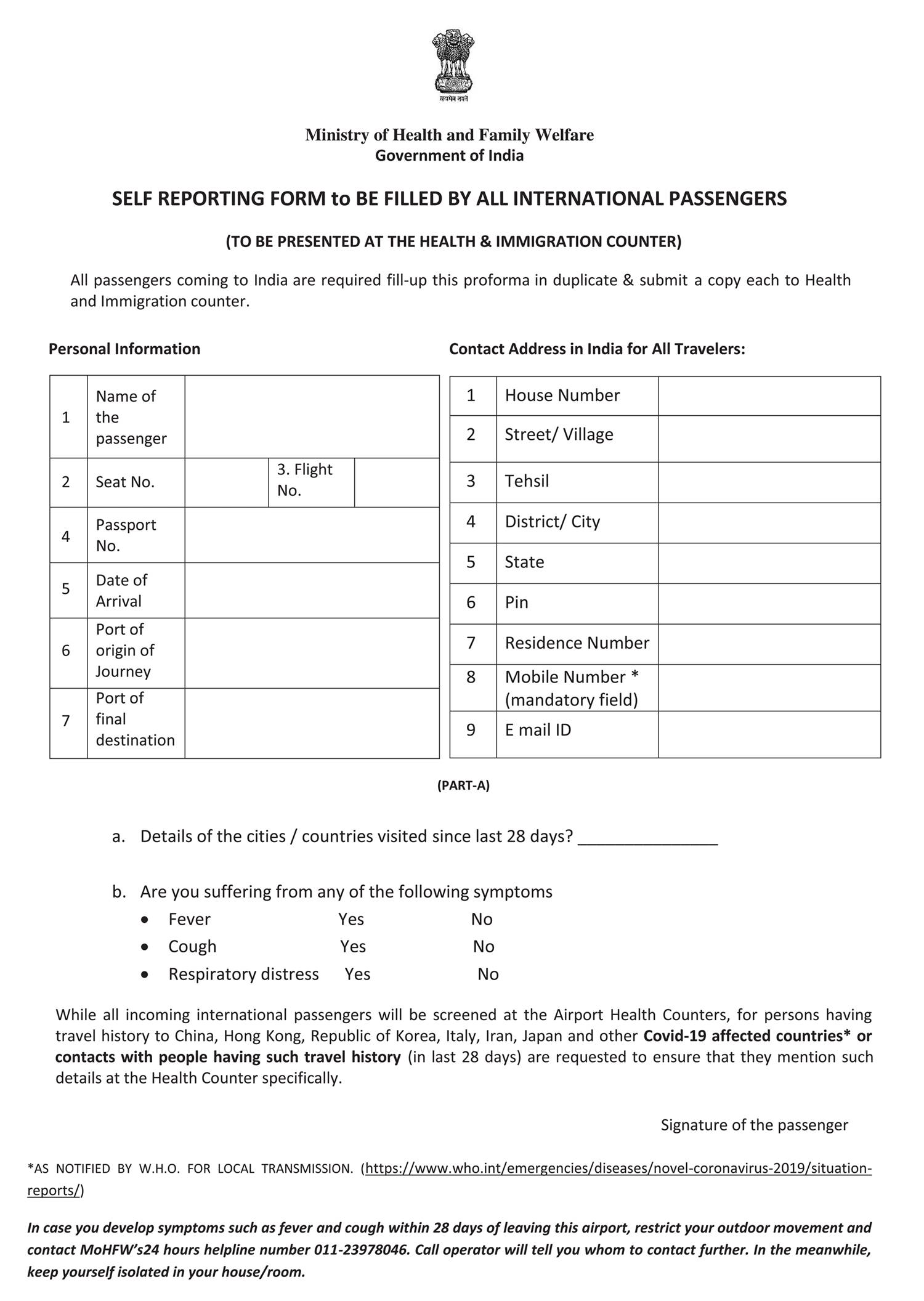 Apart from above implementation of self reporting system toward all travelers, the Ministry of Health & Family Welfare of India had released an emergency medical relief and provided guidelines for prevention of transmission an disinfection of hotels/ lodging facility where suspect/ confirm COVID-19 cases have housed, as followed:
Hotel Reception
Hotel staff at the reception should be well versed in hand hygiene, respiratory hygiene, and protocols to be followed if a guest develops symptoms.
All Guests/ Travelers
Ask guestes whethe they have resided in or history of travel to an affected area or contact with a known cases in the past 14 days. (as per travel advisory on website of MoHFW)

Advised to observe good personal hygeine, especially hand hygiene and respiratory hygiene (cough and sneeze)

Provide alcohol-based handrub containing 70% alcohol to guests in public areas (reception, lobby, restaurants, conference area, business centre, gym and etc)

Provide surgical masks to guests if they develop respiratory symptoms.
For Guests/ Travelers with History of Travel or Resided in the affected areas:
Provided information pamphlet upon check-in or visit https://mohfw.gov.in/node/4904

Guests/ travelers are advised to stay in the room if feeling unwell, wear a surgical mask and call hotel operators ar once for assistance.

Encourage person with respiratory symptoms to sit away from others ideally at a distances of 1-2 meters.
Handling Sick Guests with History of Travel To or Resided in the affected areas:
Advise and assist sick guests/travelers who develop symptoms (fever, cough, sore throat, breathlessness, etc) within 14 days after return from the affected areas, call control room/ identified hospital and inform about the condition of sick guests/travelers. Arrange for ambulance and consultation in Emergecy Department.

Before seeking medical care:
Advise sick guests/travelers to stay in his.her room and put on a surgical mask.

Group and relocate any asymptomatic roommate (s) to another room, and they should stay in the relocated room (s)

Minimize conact with sick guests/travelers, and other guests/travelers traveling along with the sick guests/travelers.

Staff should put on Personal Protective Equipment (PPE) while interacting with / shifting sick guests.

Staff should be awarew of the symptoms, and should report immediately if there develop and symptoms and should be immediately referred to and identified healthcare facility.
Watch | COVID-19: Dos and don'ts from the Health Ministry of India
There are more guidances such as Environmental Cleaning and Personal Protetive Equipment were issued and compiled in this document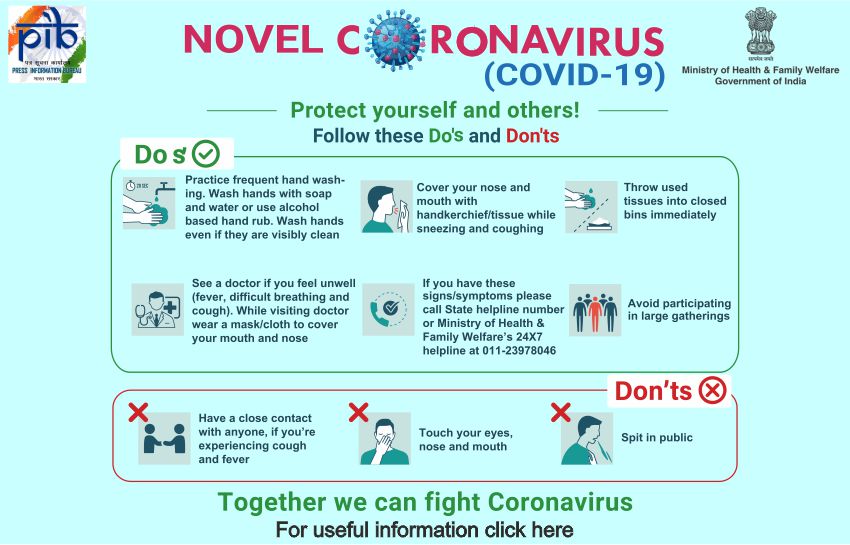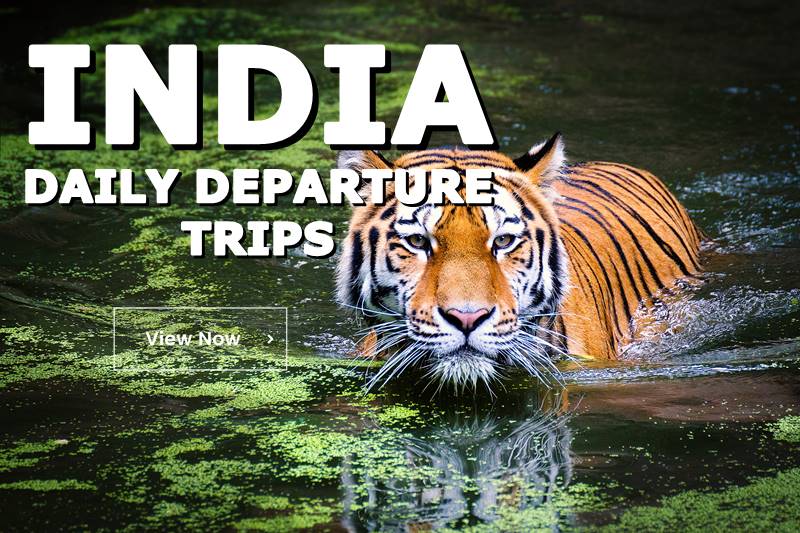 ?? ????‍♂?‍♀India is a vast South Asian country with diverse terrain – from Himalayan peaks to Indian Ocean coastline – and history reaching back 5 millennia. In the north, Mughal Empire landmarks include Delhi's Red Fort complex and massive Jama Masjid mosque, plus Agra's iconic Taj Mahal mausoleum. Pilgrims bathe in the Ganges in Varanasi, and Rishikesh is a yoga canter and base for Himalayan trekking.
The eastern port Kolkata, former capital of British India, is known for its colonial architecture. In the west, the megacity Mumbai is the seat of the Bollywood film industry, and the Malabar Coast, of spice-trade fame, features beach resorts. A land of diverse spirituality, India is the birthplace of 4 major world religions, namely Hinduism, Sikhism, Buddhism and Jainism. Around the country are innumerable sacred sites, including ancient carved-stone temples. Its spicy cuisine is as varied as the country itself, and its many wildlife sanctuaries shelter tigers, elephants and monkeys.