4D3NDPSPENIDA
4D3N
BALI
01 JUL 2019 - 31 MAR 2020
TRIP DESCRIPTION
Valid for daily arrival at Bali.
Private Service.
2 To Go Ground Package (minimum 2-4 adults per booking).
5 To Go Ground Package (minimum 5-9 adults per booking).
Stay at The Canggu Boutique Villas & Spa or The Sakaye Luxury Villas & Spa, to get FREE 1 TIME FLOATING BREAKFAST IN PRIVATE POOL!
Upon arrival Bali airport, meet and greet by our guide. Then, start the sightseeing with the cliff top temple of Uluwatu Temple, a Balinese sea temple in Bali. Built in the 11th century, it is one of nine directional temples meant to protect Bali from evil spirits. After that, dinner will be served at Jimbaran Beach. After dinner, transfer to hotel for check-in and rest.
Transfer Travel by Coach or Van (depend of group size).
Meals Dinner: BBQ Seafood
Hotel in Bali
Breakfast serve at hotel, visit to Tanah Lot, the temple symbolizes the meeting point of natural and cosmic elements and also famous for its magnificent sunsets. Lunch at local restaurant. After lunch, visit to Ulun Danu Temple. A beautiful Hindu Temple Uniquely set on the water lake surrounded and scenery of Beratan lake and green hill. Then, visit Candi Kuning Market. It is one of two main markets in the Bedugul area. Candi Kuning Market mostly boasts local farm produce, such as flowers and a wide range of tropical fruits. And, most importantly, strawberries – the prize produce of Bedugul. After dinner, transfer back to hotel for rest.
Transfer Travel by Coach or Van (depend of group size).
Meals Breakfast in hotel, Buffet Lunch, Dinner at local restaurant
Hotel in Bali
Pick-up at hotel around 07:00 am with breakfast box from the hotel, proceed to Sanur harbour and take fast boat to Nusa Penida (around 30 minutes). There are 3 most famous, located around 20 km away from Bali to the south-east known as Nusa Penida Island, Nusa Ceningan Island and Nusa Lembongan Island. Among these three islands, Nusa Penida Island is the largest one, and also well known as the best destination for scuba diving. Upon arrival, visit Broken Beach. Broken Beach is an incredible little cove on Nusa Penida island. The highlight of the cove and the reason it is called Broken Beach is due to the archway that wraps around the bay allowing water to flow in and out from the ocean. Then, visit Angel's Billabong. When you arrive here, you will be mesmerized by the beauty of the pool. This natural infinity pool is an estuary. You will see crystal clear water and coral reef in any forms. Next, visit Kelingking Secret Point - The cliffs form in the shape of a Tyrannosaurus Rex. After lunch, visit Crystal Bay. The water is crystal clear thus excellent for snorkelling. Crystal Bay is one of the few places in the world where one can see the awesome mola mola (sunfish). Relax at the beach. In the evening, transfer back to hotel and dinner at own expenses.
Swimming suit & extra towel & sun block is recommended

Itinerary are subject to change or cancel due to weather conditions.
Transfer Travel by Coach or Van (depend of group size), Share Boat
Meals Breakfast in hotel, Lunch at local restaurant, Dinner at self expenses
Hotel in Bali
Breakfast serve at hotel, free at your own leisure until meeting time then transfer to airport for flight departure.
IMPORTANT NOTICE: BALI SILENCE DAY / NYEPI DAY ON 25 MARCH (0600AM) - 26 MARCH (0600AM) 2020
The silence begins sunrise around 0600AM of 25 March 2020 and will go on until the next 24 hours
All shops are closed on Nyepi Day
Guests has to stay inside the resort area
When listening to the music or watching TV in the villa, keep the sound at minimum level
There will be no traffic on that day in the whole Bali island
Ngurah Rai airport will be totally closed on 25 March 2020, so there will be neither arrival nor departure in the airport on that day. All connecting airports around the globe have been informed in advance about this.
Across Bali, the activities are allowed only in emergency rooms and maternity section of hospitals and the arrival section of airport. Any emergencies are taken into consideration and tolerated. The whole island is in silence.
Transfer Travel by Coach or Van (depend of group size).
Meals Breakfast in hotel
抵达巴厘岛机场后,由司导或导游接机。之后,游览乌鲁瓦图寺庙,建造于乌鲁瓦图断崖上的巴厘岛印度教式神庙,也是建筑在著名的乌鲁瓦图情人崖之上,是巴里岛六大圣庙之一,也是巴厘岛最古老和最具历史价值的寺庙。然后,前往金巴兰沙滩享用晚餐。晚餐后,入住酒店。
Transfer : 乘搭旅游巴士或其它旅车(以团体人数为安排)
Meals : 晚餐:海鲜烧烤
Hotel : 于 巴厘岛的酒店
早餐后,游览坦纳洛海神庙。海神庙位于印度海洋中与本岛,建立於海边的一块巨岩上, 在朝起朝落间忽相连忽分离,海神庙同时也是无数神话与传说的发源地之一,而且也是巴厘岛最重要的海岸庙宇之一。午餐后,参观水神庙,是巴厘岛上最具有特色的寺庙,是建造于水面上的一座神庙建筑。然后,前往Candi Kuning传统市场。晚餐后,返回酒店休息。
Transfer : 乘搭旅游巴士或其它旅车(以团体人数为安排)
Meals : 早餐:酒店内,午餐:自助餐,晚餐:餐厅
Hotel : 于 巴厘岛的酒店
领了酒店准备的早餐盒后,大约上午7时,送往沙努尔码头乘搭快艇前往珀尼达岛(约30分钟)。珀尼达岛是巴厘岛东部的一座离岛,这里与印度洋相邻,海水清澈见底,珊瑚礁和海洋生物色彩斑斓。抵达后,游览破碎沙滩。如今全球遗留的海上天然拱门已不多见,而破碎沙滩便是其中的一座。之后,游览天使浴池。它的特色是在一堆火山石里隐藏着一个天然的无边泳池,池水碧绿。然后,游览悬崖形成暴龙形状的沙滩。接着,游览水晶湾。这里海水能见度佳,是珀尼达岛最负盛名的潜点。每年7-9月在这里深潜,还有机会亲眼见到深海巨兽翻车鱼。您可以在这里吹吹海风、放松心情。傍晚,送往酒店,晚餐自费。
建议携带泳衣/ 裤,毛巾以及防晒霜

出海的行程随时更动或取消,以实际的天气状况而定
Transfer : 乘搭旅游巴士或其它旅车(以团体人数为安排)、公共船
Meals : 早餐:酒店内,午餐:餐厅,晚餐:自理
Hotel : 于 巴厘岛的酒店
早餐后,自由活动,办理退房,送机。
重要通知:巴厘岛安宁日 / 2020年3月25号早上6点至26号早上六点
巴厘岛的新年是个沉默、禁食和打坐的一天。从安宁日早上六点直到隔天早上上午6时的Nyepi安宁日,是自我反省的一天,为此任何可能干扰这个目的任何活动都因而受到限制。
主要的限制是:不能生火(灯)、不能工作、不能有娱乐或游乐、不可以出门、对某一些人而言,不可以吃也不可以说话。这些禁令所产生的影响是巴厘岛原本繁华的街道完全地净空了、电视和收音机成了静音,没有噪音和任何活动的迹象。唯一在户外的人是每一个村子所指派的巡守队Pecalang(传统保安巡逻人员),确保各项禁令被遵守及街道没有任何人活动。安宁日虽然是巴厘印度徒的节日,但是在这一天,非印度教的巴厘岛其他居民也必须完全予以配合遵守在安宁日所有一切的禁令。游客也不获豁免例外;纵使游客在酒店内是被允许自由活动,但是在酒店的海滩或公开区域的任何活动都是被禁止的。在安宁日这一天,连巴厘岛机场都将全日封闭,巴厘岛的天空也將淨空禁止任何航机经过。唯一的例外情况是允许救护车运送有生命危险威胁的人和即将分娩的妇女。
Transfer : 乘搭旅游巴士或其它旅车(以团体人数为安排)
Meals : 早餐:酒店内
Print Trip Details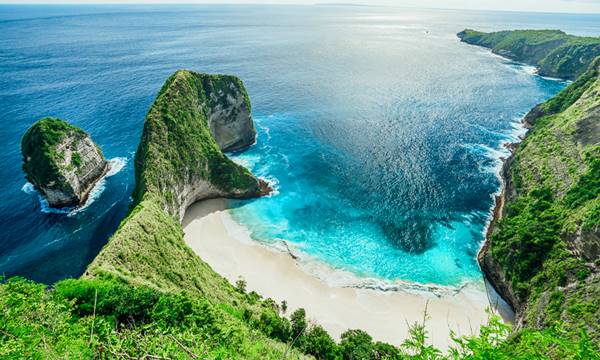 Trip Inclusive
03 nights' hotel accommodation in Bali
Daily breakfast at hotel, 02 lunches and 02 dinners
02 full days & 01 half day sightseeing with entrance fee (Share boat for Island tour)
Round trip private airport-hotel transfer
English speaking tour guide/ driver guide service
Private Service (Except cruise, flight, train or sightseeing public coach if any involved)
Trip Exclude
International/ Domestic air ticket
Individual expenses
Hotel porter tipping
Trip Mandatory
| ITEM | ADULT | CHILD |
| --- | --- | --- |
| Agency Collection Fee | 30.00 | 30.00 |
| Tipping for guide & driver | 38.00 | 38.00 |
Optional Addon
| ITEM | ADULT | CHILD |
| --- | --- | --- |
| Chinese Speaking Guide surcharge (Per Person) | 42.00 | 42.00 |
General Terms
Rates quoted are subject to change without prior notice and/or upon hotel confirmation. This may be due to any special event and any immediate room surcharges implied by the hotel.
No refunds are given for any unused portion of this package or during tour.
An infant is not charged; hence no seat / no bed is allocated to infants. Child rate applies if a seat is required for airport transfer. Additional rate applies for hotel baby cot request.
The above itinerary is for reference only and visiting sequences may be different, and is subject to any necessary changes in accordance to local requirements.
12fly of Malaysian Harmony shall not be liable for any loses or expenses incurred due to delay, sickness, weather, strikes or any other causes beyond its control, such losses and expenses shall be borne by the clients.
Others 12fly terms & conditions applies.
Payment Terms
Deposit for this package is minimum MYR 100 per person