2D1NBSBSKY
2D1N
PERAK
01 SEP 2020 - 31 DEC 2020
TRIP DESCRIPTION
Valid for daily arrival at Bagan Sungai Burong, Perak.
5 TO GO Ground Package (Minimum 5 persons per booking).
Make your own transfer to Perak Bagan Sungai Burong Fishing Village and check in on/ after 1500PM.
Feel free to Explore The Village on your own:
Fish Ball Factory
Temple
Local Delicacies
Wishing Tree
Salted Fish Factory
Giant Lizards Spotting
Sunflower Garden
3D Aquarium
Sunset
Enjoy your dinner with Steamboat. Evening, assemble around 1930PM, proceed for Blue Tears Tour. Tonight, enjoy your supper and Karaoke night.
Transfer NIL
Meals 01 Seafood Dinner & 1 Local Supper
Hotel Home-stay in Fisher Village
After breakfast, depart to Sky Mirror at 0730AM which you can enjoy:
Photo taking at Sky Mirror
Catch the clams by using your own hands (Depending on the tidal conditions. You can bring back or cook on the spot with no charge. )
Around 1130AM, return to the village for refreshment and check out. End the tour with a delicious Seafood Platter Lunch.
Transfer NIL
Meals Breakfast & Seafood Platter Lunch
自驾抵达霹雳双武隆渔村,下午3点以后,办理登记手续。
乘搭免费提供的电瓶车载您逛渔村(大约十分钟),待电瓶车完成逛村活动后,旅客们便可自行慢步在渔村里自由活动:
西刀鱼丸加工厂
仙发师公古庙
专业的抓耳虫服务
许愿树
咸鱼加工厂
码头桥底下的四脚蛇聚中点
向日葵主题公园打卡(8月属花开期)
海盗船
海底世界3D立体壁画水族馆
环岛码头欣赏美丽的夕阳
品尝美味的渔村小食,本地土产、潮州糕点等等(自费)
直到傍晚,安排在码头享用海鲜火锅料理晚餐。晚餐后,旅客们将由资深的环岛旅游团队带您搭船夜航出海去追寻蓝眼泪。由于蓝眼泪是天然的浮游生物,所以每天船长都必须以当天的风向流向去判断哪里的蓝眼泪出现机率,以目睹船在航行时所造成的浪花来呈现蓝眼泪的面积和亮度。结束海上寻泪活动后,回航到渔村码头享用为已经为旅客们准备的夜宵和尽情享受卡拉OK欢乐时光。
Transfer : 无
Meals : 含晚餐和宵夜
Hotel : 码头渔村民宿
享用渔村早餐后,从码头出发参与传说中的天空之镜。抵达目的地,等水退至0.5米,大约是脚踝的深度时,旅客们下船在海面上进行各种活动。浅滩在艳阳照射下尤如一面会变魔术的镜子,可以清楚反射天空倒影,是拍摄珍贵作品的好去处。 滩涂赶海耕手挖蛤蛎活动,在赶海水涨潮时耕海活动也同时进行,所有捕捞得蛤蛎皆归游客所有(活动具体取决于潮汐条件。寻获的蛤蜊可带回或免费烹煮)。
约11点半左右,由于海水涨潮,旅客们必须上船返回渔村。旅客们可在我们所提供民宿厕所洗澡和更换干净的衣服。梳洗过后,在结束这两天一夜游行程前,旅客们将安排到当地餐馆享用海鲜大拼盘午餐。
Transfer : 无
Meals : 含早餐和海鲜大拼盘午餐
Print Trip Details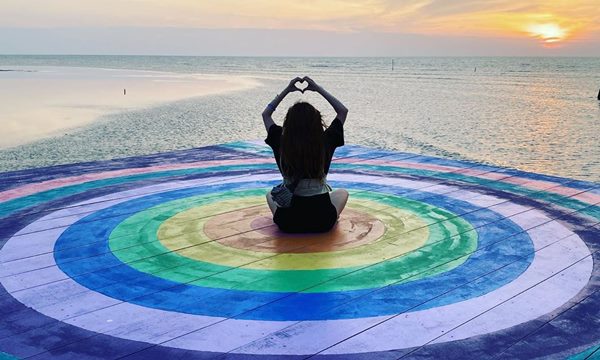 Trip Inclusive
1 night accommodation (5 persons in a room)
1 Seafood Dinner, 1 Local Supper, 1 Local Breakfast and 1 Seafood Platter Lunch
All boat transfers
Optional Addon
| ITEM | ADULT | CHILD |
| --- | --- | --- |
| 2 Days round trip transfer from Kuala Lumpur/ Selangor to Bagan Sungai Burong in 7-seater van | Maximum 5 persons per van (Price based on Per Person) | 200.00 | 200.00 |
General Terms
Rates quoted are subject to change without prior notice and/or upon hotel confirmation. This may be due to any special event and any immediate room surcharges implied by the hotel.
No refunds are given for any unused portion of this package or during tour.
The above itinerary is for reference only and visiting sequence may be different, and is subject to any necessary changes in accordance to local requirements.
12fly of Malaysian Harmony shall not be liable for any loses or expenses incurred due to delay, sickness, weather, strikes or any other causes beyond its control, such losses and expenses shall be borne by the clients.
Others 12fly terms & conditions applies.
Payment Terms
Deposit for this package is minimum MYR 100 per person