VH_PL3D2NE
3D2N
WESTERN AUSTRALIA
01 APR 2020 - 31 MAR 2021
TRIP DESCRIPTION
Tour Start & End Perth
Depart Daily
4 To Go Ground Arrangement (minmum 4 person per booking)
Be blown away by the explosion of pink hues and selfie with one of Mother Nature's offspring - the sparkling bubble-gum Pink Lake. Smell the saltiness wafting through the air and see the mesmerising crystal-clear blue water of Indian Ocean along Coast Cliff. Witness Kalbarri's breathtaking rock formation shaped over the million years, showcasing nature's architecture. Walk through the Loop to give you a panoramic view to one of WA's iconic natural beauties – Nature's Window. Inject adrenaline pumping excitement by sand boarding down the smooth white sand dunes of Lancelin. Valentino presents to you a new itinerary that brings you closer to nature's magnificent phenomenon.
Self arrangement to Travelodge Perth hotel for tour departure point. Tour depart at 8.30am | Arrive Geraldton hotel by 6pm
Highlights of the tour:
Sand Boarding Advenure in Lancelin - For a taste of adventure and an injection of adrenalin, head to the sand dunes of Lancelin, north of Perth. Here, you can go sand boarding down massive 45-degree angle dunes, which are the biggest in Western Australia.

Cervantes -

Lobster Shack for lunch. Half Lobster for Adult, Fish and chips for child
Leaning Tree - View and photograph the unusually structured trees from the Brand Highway. The leaning trees are a bizarre natural phenomenon caused by the airborne salt content blown in by the winds off the coast of Indian Ocean. The tree trunks lie horizontal to the ground and have become somewhat of an icon.
Geraldton - The Geraldton Port is one of Australia's busiest regional ports and second largest for grain export. You will be able to see a variety of different size carriers arriving and departing daily. The port handles exports including iron ores, grains, fuels, metals, mineral sands, talc, garnets and fertilisers.
Hotel check in follow by dinner - Platter to shared Light Dinner.
NOTE: We request you keep your luggage to a maximum of 7kg in a backpack or soft overnight bag.
Transfer by Valentino Holiday coach tour
Meals Lunch, Dinner
Hotel Waldorf Geraldton Serviced Apartments or similar
Depart Geraldton hotel at 8am | Arrive hotel by 7pm
Highlights of the tour:
Kalbarri National Park (Nature's Window) - A self-guided short walk from The Loop car park brings you to one of WA's most iconic natural attractions. This natural rock arch frames the river perfectly and is the main photograph opportunity in Kalbarri National Park. Over 183,000 hectares of national park beckons you to explore the spectacular 400 million-year-old river gorges, dramatic coastal rock formations and a kaleidoscope of wildflowers.
Coastal Cliff - Explore this remarkable expanse of rugged coastline, decaying cliffs and amazing rock formations.

Hutt Lagoon (Pink Lake) -

Sometimes bright bubble-gum pink, sometimes lilac and occasionally even red, the waters of Hutt Lagoon can be an extraordinary sight on the drive between Port Gregory and Kalbarri. Head out before sunset and watch the colours transform.

It is the extremely high level of salinity that gives the lagoon its unusual hue, and its vibrancy changes with the seasons and time of day.
NOTE: Hutt Lagoon - Depending on the time of day, the season (time of year) and the amount of cloud cover, the lake changes through the spectrum of red to bubble-gum pink to a lilac purple. | Continental Breakfast, Platter to shared for Light Lunch and Dinner
Transfer by Valentino Holiday coach tour
Meals Breakfast, Lunch, Dinner
Hotel Waldorf Geraldton Serviced Apartments
Depart Geraldton hotel at 8am | Arrive Travelodge Perth hotel by 5pm - drop off point.
Optional: Scenic Flight - Enjoy a bird's eye view of the Hutt Lagoon, spectacular coastal cliffs of Kalbarri, the rich farming lands of the Northampton area and the Moresby Ranges before landing back in Geraldton.
Highlights of the tour:
Jurien Bay -

Jurien Bay is located north of Perth, facing the Indian Ocean. This relaxed fishing town is blessed with long sandy beaches, colourful offshore reefs, amazing marine life and a thriving cray fish industry.

Pinnacles -

The lunar-like Pinnacles form one of Australia's most unique and fascinating natural landscapes. Formed over millions of years, thousands of tall limestone spires rise eerily out of the yellow desert sands of Nambung National Park, just outside the coastal town of Cervantes.
Back to Perth.
NOTE: Continental Breakfast and Platter to shared for Light Lunch.
Transfer by Valentino Holiday coach tour
Meals Breakfast, Lunch
Print Trip Details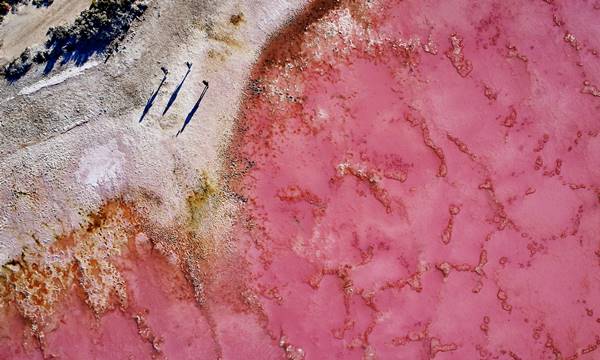 Trip Inclusive
2 night accommodation in Geraldton
Daily breakfast, 3 lunches and 2 dinners
Visit to Pinnacles, Lancelin, Geraldton, Kalbarri National Park, Hutt Lagoon - Pink Lake
View and Photo-stop at Jurien Bay Jetty, Learning Tree and Natural Bridge
All park entrance fees and transportation
Driver Guide service (English or Mandarin speaking)
Trip Exclude
International and/or Domestic air ticket
Personal Expenses
Morning and afternoon tea, boat cruises unless specified.
Travel Insurance
Tipping to be pay direct to driver guide with simple commentary of AUD$ 5.00 / person / day
Trip Mandatory
| ITEM | ADULT | CHILD |
| --- | --- | --- |
| Agent Collection Fee | 30.00 | 30.00 |
Optional Addon
| ITEM | ADULT | CHILD |
| --- | --- | --- |
| Pink Lake Scenic Flyover | Price per person | 649.50 | 649.50 |
General Terms
Rates quoted are subject to change without prior notice and/or upon hotel confirmation. This may be due to any special event and any immediate room surcharges implied by the hotel.
Hotel rooms and coach tour are subject to availability.
No refunds are given for any unused portion of this package or during tour.
The itinerary is for reference only and visiting sequence may be different, and is subject to any necessary changes in accordance to local requirements.
Due to the duration and nature of tours, tour are not suitable for children under 6 years of age. Travellers under 12 must travel with guardian.
No bookings are accepted less than 30 working days prior to departure, due to require sufficient working days to apply australia tourist visa.
12fly of Malaysian Harmony shall not be liable for any loses or expenses incurred due to delay, sickness, weather, strikes or any other causes beyond its control, such losses and expenses shall be borne by the clients.
Others 12fly terms & conditions applies.
Payment Terms
Deposit for this package is minimum MYR 200.00 per person.