8 DAYS 7 NIGHTS THE BEST OF REYKJAVIK, HELLA, LANDMANNALAUGAR, WESTMAN ISLAND, GLACIER HIKE & SKOGAFOSS
GJ56
8D7N
REYKJAVIK
14 JUN 2020 - 06 SEP 2020
TRIP DESCRIPTION
Tour available on selected Sunday only.
Max Group Szie of 20 persons
This 8-day tour focuses on guided day excursions and explorations from only three different overnight locations in Southern Iceland. You visit the Golden Circle sites, explore the interior highlands of Landmannalaugar, the volcanic Westman Islands "Pompei of the North" and the frozen wonders of Vatnajökull National Park. Your Icelandic adventure includes short walks here and there, bathing in the geothermal Blue Lagoon, climbing volcano craters, cruising the North Atlantic Ocean, walking on glaciers, a boat trip between floating icebergs and lots of time to take pictures.
Welcome to Iceland! On arrival at the airport, individual transfer by Flybus shuttle from Keflavik airport to your accommodation in Reykjavik.
Upon check in hotel, at own leisure.
Wondering what to do in Reykjavik?
Reykjavík has plenty to offer in entertainment for all ages. Its closeness to nature makes it an ideal destination for outdoor activities. Iceland's 1000 years of history and culture can be explored in the city's many museums. The Reykjavík music and nightlife is buzzing as always. And the local pools might spark an interesting conversation.
Transfer by Flybus Airport shuttle. Pick-up from designated pick-up zone and location to be advised once booking has been made.
Hotel Hotel Cabin or similar
At 09:30 meet your tour guide and fellow group members and travel to the Reykjanes Peninsula with its hot springs, mountains, bird cliffs, lunar landscapes and fishing villages.
We warm up in the geothermal mineral-rich waters of the famous Blue Lagoon.
In the afternoon we explore Krýsuvík, an area with solfataras, fumaroles, mud pots and hot springs.
Next stop is the charming fishing village of Eyrarbakki with a large number of preserved houses from the period 1890-1920, and therefore a visit is like a journey 100 years back in time. We visit the local maritime and folk museum.
In the evening we reach Hella, a small village in South Iceland, where we stay for three nights in simple cottages. You might take a walk south alongside the riverbank to experience complete solitude and tranquillity.
Transfer by GJ Travel coach tour
Meals Breakfast
Hotel Arhus Cabins or Hotel Hella or similar
Today we drive the rough unpaved road to Landmannalaugar, an oasis in the barren highlands, surrounded by centre rhyolite mountains.
Group members have the options to explore the area on their own or join the guide for a short hike through a rough lava field and up the slopes with an incredible spectrum of colours.
The highlight is a 90-minute round-trip hike up toward Brenninsteinsalda, the rainbow mountain of Iceland, which is one of the most spectacular volcanic mountains in Landmannalaugar. The name in English translates to "sulphur wave". It comes from the yellow sulphur spots which have coloured its sides. But there are other colours too: green from copper, black and blue from lava and ashes, red from iron in the earth and white from silica. It could very well be the most colourful mountain in Iceland, and so its picture is often found in books and calendars. The mountain is still "hot" where you can see sizzling sulphur springs and centre at its sides. For this hike, good boots and walking poles are helpful. In Landmannalaugar there is also a natural geothermal stream where you can enjoy a refreshing bath. Have swimwear and towel ready.
On the way back to our accommodation, we stop at the beautiful waterfall Hjálparfoss in Þjórsárdalur valley surrounded by unusual basalt rock formations. Nearby we explore the Viking farm ruins at Stöng, which was completely buried in pumice during one of Mt. Hekla's bigger eruptions in 1104.
A leisurely hike brings us to Gjáin, a green oasis in an otherwise rocky, barren moon-like landscape. Þjórsárdalur is off-the-beaten-path and is dominated by Mt. Hekla and other volcanoes in the vicinity. Hekla is one of Iceland's most active volcanoes; over 20 eruptions have occurred since settlement in 874. During the Middle Ages, Europeans called the volcano the "Gateway to Hell".

NOTE: In case Landmannalaugar is not accessible during May and June departures, we travel only to Þjórsárdalur valley on that day.
Transfer by GJ Travel coach tour
Meals Breakfast
Hotel Arhus Cabins or Hotel Hella or similar
Today, we visit three of Iceland's most famous spots: Þingvellir National Park, Geyser hot springs, and Gullfoss waterfall.
We start the day at the ancient Viking Parliament area of Þingvellir National Park, a UNESCO world heritage site. The Þingvellir plain is situated on a tectonic-plate boundary where North America and Europe are slowly tearing away from each other. Next stop is at the Geysir geothermal fields with a variety of hot springs and bubbling pools. Gullfoss, "the golden falls", is a double waterfall that tumbles 34 meters into the Hvítá river originating from the glacier Langjökull. We continue to Skálholt, which is one of Iceland's most historic and holy places. It was the centre of ecclesiastic power in Iceland for more than 700 years.
Transfer by GJ Travel coach tour
Meals Breakfast
Hotel Arhus Cabins or Hotel Hella
A short ferry ride brings us to the Westman Islands, where we explore the town of Heimaey and this extraordinary island by foot and by bus.
The volcanic eruption in 1973 is considered the largest natural disaster in Iceland in recent history. The eruption began on January 23 in the outskirt of the town of Heimaey, the only populated island in the Vestmannaeyjar archipelago. After the evacuation of the 5300 inhabitants, and during the 5 months while the eruption lasted, there was much uncertainty as to whether or not the island could ever be repopulated. During our tour to the Westman Islands, we explore bird cliffs, walk up a volcano crater and visit "Pompeii of the North", a volcanic excavation project. There you observe a "house" which was dug up from the thick layer of pumice after 40 years. There is also an exhibition about Surtsey Island that was born by volcanic eruptions between 1963-68 and preserved today by UNESCO.
You have the afternoon free to wander around the town of Heimaey, with its birds and signs of recent volcanic eruptions.
We travel with the 4 pm ferry back to the mainland and continue to our accommodation near the village of Vík in South Iceland, where we stay for two nights.
Transfer by Ferry to Westman Island & GJ Travel coach tour
Meals Breakfast
Hotel Hotel Dyrhólaey or similar
Today we travel to Vatnajökull, Europe's second largest national park, which has Iceland's highest mountains, an alpine environment, and Europe's largest glacier.
A 5-kilometre round-trip hike takes us through the national park to Svartifoss waterfall, which is surrounded by impressive basalt columns.
In the afternoon we head over to the famous Jökulsárlón glacier lagoon for a cruise, sailing between the icebergs of all shapes and sizes, which float in the clear blue water. After the glacial lake experience, there is time to go down to the black sand beach, the so-called Diamond Beach, in case we find icebergs that have floated all the way from the glacier lagoon into the Atlantic Ocean.
Transfer by GJ Travel coach tour
Meals Breakfast
Hotel Hotel Dyrhólaey or similar
We start the day with a walk along the black lava beach and bird cliffs at Reynisfjara. We see interesting basalt columns, and rock formations called the petrified trolls.
Next, we stop for an easy 1,5 to 2-hour glacier hike in the impressive Sólheimajökulll glacier tongue, suitable for beginners. An experienced glacier guide leads you safely through the icy wonderland of strangely shaped ridges, deep crevasses, enormous water cauldrons and different ice formations.
We continue to the thundering Skógafoss waterfall, which tumbles 62 meters over a rocky scarp, kicking up vast sheets of mist.
Further west we reach the high but narrow Seljalandsfoss waterfall where you can follow a slick and wet trail and walk right behind the falls.
Come prepared and bring a raincoat and good boots, as you will get wet! The Best of South Iceland program ends with a short Reykjavík city tour before we reach the hotel in Iceland's capital.
Transfer by GJ Travel coach tour
Meals Breakfast
Hotel Hotel Cabin or similar
After breakfast, end of our services. Hotel check out time 1000am.
Your arrangements conclude today with a individual transfer by Flybus shuttle to Keflavik airport.
Transfer by Flybus Airport shuttle
Meals Breakfast
Print Trip Details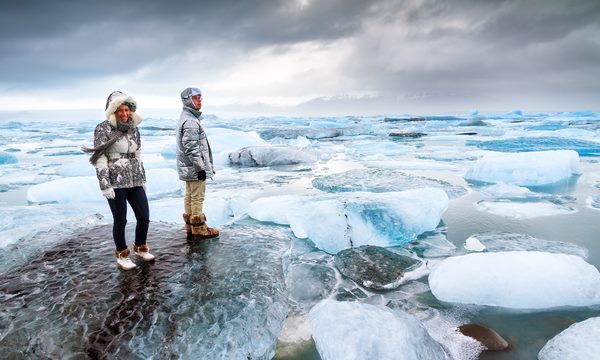 Trip Inclusive
7 nights accommodation
Daily breakfast
Visit to two national parks
Entrance & towel to Blue Lagoon including silica mud mask & one drink of your choice
Boat trip on Jökulsárlón glacial lagoon
1,5 to 2-hour glacier hike
Entrance fee to Eyrarbakki Maritime and Folk Museum
Cruise on the North Atlantic Ocean to discover the Westman Islands: the Pompei of the North
Free Wi-Fi on the GJ Travel coach
6-day escorted coach tour with an English speaking guide/driver-guide
Arrival & departure transfer by FLYBUS airport shuttle (no guide)
Trip Exclude
International and/or Domestic air ticket
Personal Expenses
Lunches, dinners, morning and afternoon tea, boat cruises unless specified
Travel Insurance
No Compulsary Tipping - If you feel your Guide/Driver Guide has delivered an outstanding level of service throughout your trip you may wish to tip them.
Optional Addon
| ITEM | ADULT | CHILD |
| --- | --- | --- |
| Private airport transfer per way per car (1- 3 persons) | 705.00 | - |
| Private airport transfer per way per car (4 - 6 persons) | 799.00 | - |
| VIP Seating - Passenger get two seat per person on the bus (GJ Travel) and a guaranteed window seat in the front rows of the coach | 1,269.00 | - |
General Terms
Rates quoted are subject to change without prior notice and/or upon hotel confirmation. This may be due to any special event and any immediate room surcharges implied by the hotel.
Package tour seat are subject to availability.
Itinerary may vary slightly depending on group size, group pace and other external factors beyond our control.
By booking with us, you are accepted GJ Travel's booking term & conditions, https://www.gjtravel.is/terms-conditions/
Full payment is required in order for process booking if booking received less than 50 working days prior to departure. Seat subject to availability.
12fly of Malaysian Harmony shall not be liable for any loses or expenses incurred due to delay, sickness, weather, strikes or any other causes beyond its control, such losses and expenses shall be borne by the clients.
Others 12fly terms & conditions applies.
Payment Terms
Deposit for this package is minimum MYR 2500.00 per person.